For Previous Newsletters
from Oletha, CLICK HERE.
---
---
---
2021:
---
GOVERNOR KELLY SIGNS
SENATE BILL 127, WITH OLETHA'S
DRIVERS' LICENSE SUSPENSION
RELIEF AND REFORMS.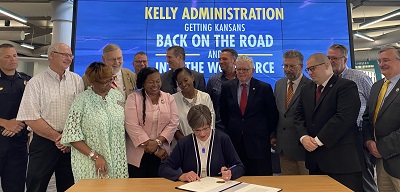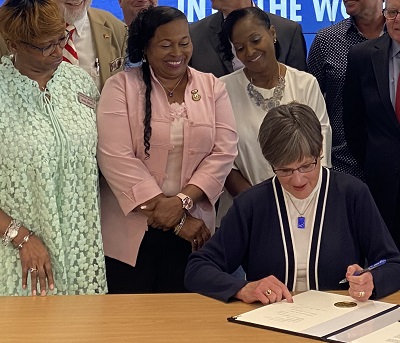 ---
Sen. Faust-Goudeau, surrounded by the coalition of supporters for her drivers' license supsension reforms, watches Governor Laura Kelly sign them into law, in Wichita.

Suporters present include fellow legislators, local government officials, Wichita Police Chief Gordon Ramsey, and members of the city's Racial Profiling Advisory Board.

The new law sharply reduces the hardships imposed on over 100,000 Kansans -- the largest group of them here in Sedgwick County -- whose driving priveleges have been withheld for too long, at too great a cost to them and to society. The theme of the event: "Getting Kansans Back on the Road and Into the Workforce".

For more about this bill, see "DRIVERS LICENSE SUSPENSIONS," below.
---
DUNBAR COMMUNITY CENTER:
WALMART SUPPORT & GROUNDBREAKING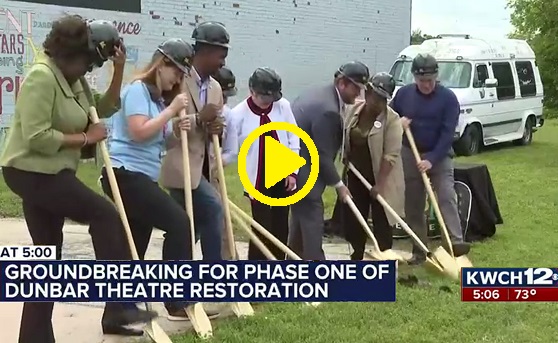 ---
With Sen. Faust-Goudeau's encouragement, Walmart has again donated another $50,000 to the Dunbar Theater Project -- this time to kick off the addition of a new community center to be added next door, as part of the expanding project.
Joining Oletha for the ceremonial ground-breaking were Governor Laura Kelly, Mayor Brandon Whipple, Vice Mayor Brandon Johnson, and Walmart representatives.
"I do want to particularly thank Senator Oletha Faust-Goudeau for her continued leadership on this project." ~Gov. Laura Kelly
To support to the project, through POWER CDC (the project leader), CLICK HERE;
---
"KIFA 2021 LEGISLATOR of the YEAR"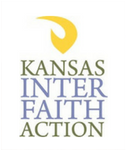 Kansas InterFaith Action

— a civic action partnership of many religious leaders from throughout Kansas — selected Senator Faust-Goudeau as their 2021 Legislator of the Year — recognizing her work to advance their faith-driven justice, service and humanitarian goals.

She will be honored, along with others, at the group's Annual Meeting, Tuesday, June 1 at 7pm -- which, this year, will be conducted "virtually," online, over Zoom. Guest speaker will be Minnesota Attorney General (and 7-term former Congressman) Keith Ellison.

For tickets to the online meeting, CLICK HERE;
or, to donate to KIFA, through ActionNetwork CLICK HERE;

See:
"Sen. Oletha Faust-Goudeau named Kansas Legislator of the Year" KWCH-TV, June 1, 2021
"Sen. Oletha Faust-Goudeau from Wichita named 'Legislator of the Year' by Kansas Interfaith Action" KSNW-TV, June 1, 2021
---
"DRIVERS LICENSE SUSPENSIONS"
Senator Faust-Goudeau brought her license-restoration bill back to life -- and got it through the Legislature, with overwhelming support -- and the Governor's signature. It takes effect July 1.

Sen. Faust-Goudeau has revived her Driver's License Suspension bill -- to enable over 100,000 Kansans (some analysts say over 200,000, mostly in Wichita and Sedgwick County) to reinstate their suspended driver's licenses, and get back to work.
The bill addresses the revolving-door problem of people who, for lack of resources, are unable to pay their traffic fines on time, and -- as a result -- their licenses are suspended. This keeps them from getting to work, to earn the money, to pay their fines -- essentially trapping them forever, unable to drive, unable to get to work, and plummeting deeper into hardship, and hopelessness.
Senator Faust-Goudeau's bill (this year, the product of her collaboration with numerous legislators and factions, left and right) -- along with her bill from a few years ago -- works to break that self-reinforcing cycle of unemployment, poverty and failure.
Her earlier bill provided for temporary restricted drivers licenses, to allow people with suspended licenses to at least drive to and from work, while paying off their fines.
This year, the bill:
Expands the number of people eligible for the restricted license, including drivers previously cited for driving while their license was suspended.
Waives the $25 application fee,
Allows individuals to petition the court to waive or reduce fines and fees (or substitute community service)
Eliminates the additional 90-day waiting period for reinstatement.
Last year, Faust-Goudeau's bill passed the Senate overwhelmingly, before being halted in the House (along with all other business) as the Legislature switched exclusively to COVID-19 pandemic issues.
During the lead-up to the 2021 legislative session, and in its early phases, Sen. Faust-Goudeau engineered deals with Democrats and Republicans to enable the bill (SB 100) to get out of the Transportation committee, and (in a tweaked form) out of the Federal and State Affairs committe, and and on to a rare bipartisan UNANIMOUS vote in the Senate -- integrated into Senator Petersen's SB 127, which addressed normal driver's license renewals. It passed through the House, and went on to the governor's desk -- where Governor Kelly signed the bill into law Friday, April 23rd, 2021.
The revived bill, and its passage, is the subject of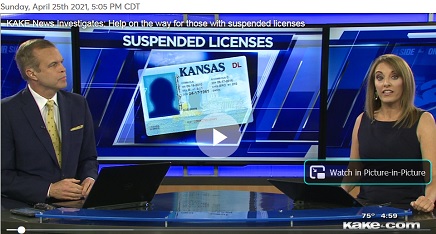 early coverage on KSNW-TV
detailed coverage on KAKE-TV
...and on KWCH-TV
...and key segments on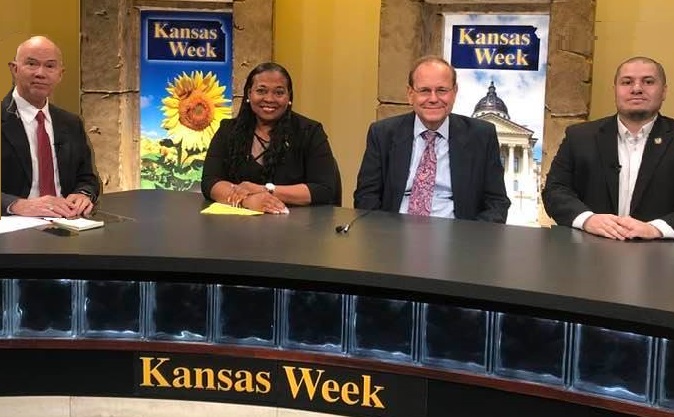 With detailed explanations of the new law at:
The Kansas Reflector, May 14, 2021
---
Supporters of Sen. Faust-Goudeau's bill included such diverse backers as:
Racial Profiling Advisory Board of Wichita
Local clergy, including:
Individual citizens.
Legislators all across the political spectrum.
Governor Laura Kelly

For more about the bill, and the way it gets more people back to work, CLICK HERE.
---
---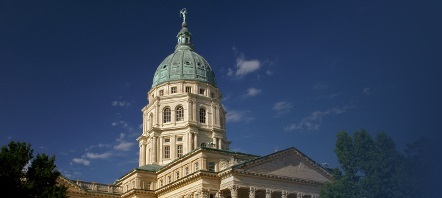 ---
2021 SENATE BILLS PROPOSED BY SEN. FAUST-GOUDEAU:
2021 Session of the Kansas Legislature
April 2021, at Wichita's HCA Wesley Hospital: Oletha (in yellow) between Governor Kelly and Mayor Whipple, with HCA Wesley CEO Bill Voloch behind them, and other Wesley staffers. The officials met to discuss the hardships facing Kansas hospitals, particularly due to the COVID-19 pandemic. Wesley staff made clear their need for Medicaid expansion, as the pandemic has severely strained the limits of their resources, particularly with the influx of uninsured emergency room patients, whom the hospital is legally and morally obliged to serve.
Medicaid Expansion
& Medical Marijuana:
At the request of the Governor, Senator Faust-Goudeau introduced a bill to advance Medicaid Expansion (to extend basic, essential healthcare to those most in need), and Medical Marijuana as a prescription remedy for certain medical conditions, and as a source of tax revenue.

Elimination of State Sales Tax on Food:
Working with State Represntative Susan Estes (R-Wichita), I have introduced a bill to eliminate the state sales tax on food. This is a measure that I first introduced in the legislature a few years ago. Budget shortfalls from the Brownback years prevented the Legislature from going through with the idea. This year, too, owing to the COVID-19 recession and reduced state tax revenue, it faces an uphill battle. But we have both Democrat and Republican support for the measure.

Economic Development and COVID-19 Recovery:
At the request of the Kansas Commerce Secretary Toland -- and working with Rhonda Harris, Director of Small/Women-owned Business Affairs, of the Ks. Dept. of Commerce -- I've introduced a bill (patterned largely on a prior one I proposed) to provide expanded economic opportunity for Kansas businesses and workers, and a pathway to economic recovery for the state.

SB 9 - Requiring newly certified law enforcement officers to attend diversity meetings organized by the Kansas commission on peace officers' standards and training.
Referred to Judiciary Committee
– Chair: Sen. Kellie Warren
Ph.: 785-296-7646
E-mail:Kellie.Warren@senate.ks.gov
SB 12 - Requiring the Kansas Department for Children and Families (DCF) to implement performance-based contracts.
Referred to Public Health & Welfare Committee
– Chair: Sen. Richard Hilderbrand
Ph.: 785-296-7370
E-mail:Richard.Hilderbrand@senate.ks.gov
SB 42 - Concerning the study and investigation of maternal deaths in the state of Kansas.
See: Maternal Mortality Bill introduced in Kansas Senate
2021-01-13 WIBW-TV (Topeka)
Referred to Public Health & Welfare Committee
– Chair: Sen. Richard Hilderbrand
Ph.: 785-296-7370
E-mail:Richard.Hilderbrand@senate.ks.gov
SB 100 - Excluding the additional 90-day wait period and providing for the elimination and delay of payment for certain fees for restricted driving privileges.
Full Description: An act concerning drivers' licenses; relating to certain restrictions; exclusion from the additional 90-day period for suspended or revoked licenses; eligibility for restricted driving privileges; removing and delaying payment for fees that apply to individuals for failure to comply with a traffic citation; amending K.S.A. 2020 Supp. 8-262 and 8-2110 and repealing the existing sections; also repealing K.S.A. 2020 Supp. 8-2110b, by Committee on Transportation.
Referred to Transportation Committee
UPDATE: Passed the Legislature, within SB 127, and signed into law by Governor Laura Kelly, April 23, 2021.
– Chair: Sen. Mike Petersen
Ph.: 785-296-7355
E-mail:Mike.Petersen@senate.ks.gov
SB 130 (CROWN Act) - Amending the definition of "race" in the Kansas act against discrimination to include traits historically associated with race, including hair texture and protective hairstyles.
Full Description: An act concerning the Kansas act against discrimination; relating to race; hair texture and protective hairstyles; amending K.S.A. 44-1015 and K.S.A. 2020 Supp.44-1002 and repealing the existing sections. (see: Wichita Eagle article, Feb.4, 2021 )
Referred to Federal & State Affairs Committee
– Chair: Sen. Larry Alley
Ph.: 785-296-7381
E-mail:Larry.Alley@senate.ks.gov
---
2020:
---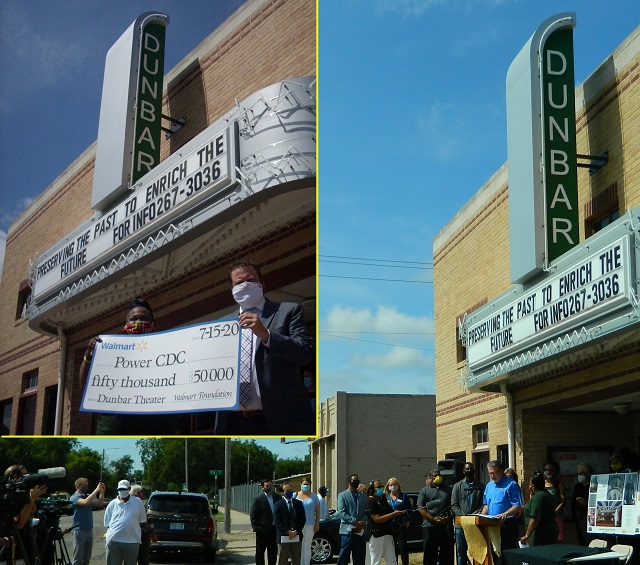 DUNBAR THEATER - WALMART SUPPORT:
Revitalizing the North-Central Community
July 15, 2020

ABOVE: Sen. Faust-Goudeau receives $50,000 check, for the Dunbar Theater's restoration, from Walmart representative Ryan (inset). In the larger photo, Lieutenant Governor Lynn Rogers addresses the crowd, expressing delight at the community support -- and Walmart contribution -- for the Dunbar Theater restoration, while Senator Faust-Goudeau, Mayor Whipple, Councilman Johnson, Walmart representatives and community leaders await their turns to join in the praise.

Senator Faust-Goudeau invited Walmart to contribute to the Dunbar Theater restoration project, to help bring back Wichita's historic Dunbar Theater at 9th and Cleveland -- the theater that was the social and entertainment hub of Wichita's African-American community from 1941 through the end of segregation in the 1960s. The Dunbar is the centerpiece of what some call "Wichita's black Wall Street" -- the once-thriving "black downtown" of Wichita's segregation era.

Power Community Development Corp., the inner-city's federally-chartered revitalization organization, has set its sights on bringing back the Dunbar as a venue for the whole community, with special meaning and availability to the inner-city public. (See architect's rendering, below.)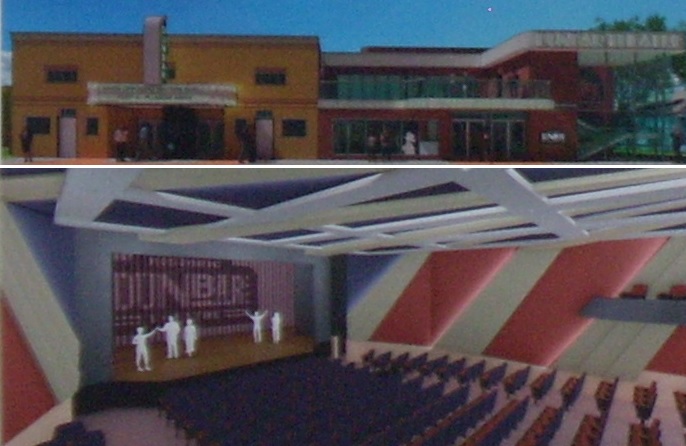 PowerCDC -- on whose board the Senator serves -- has regular fund-raisers for the project. With a July 20th fundraising party approaching, Oletha invited Walmart to contribute. They considered her request for modest support, but then responded with an extraordinary $50,000 check!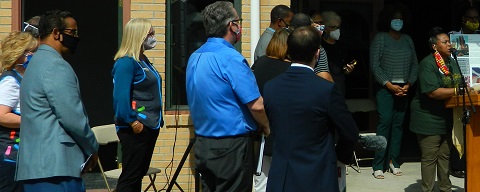 ABOVE: At left: Walmart delegation and local pastor. In center foreground: Lt. Gov. Lynn Rogers and Wichita Mayor Brandon Whipple. In center background: Wichita City Councilman Brandon Johnson. At podium: Senator Faust-Goudeau surrounded by members of Power CDC and the Dunbar restoration committee.
To celebrate the extraordinary gift, Senator Faust-Goudeau organized a grand reception for Walmart to present their check, amongst the dignitaries of the community -- with Lieutenant Governor Lynn Rogers choosing this event to make his first public appearance in months. Mayor Brandon Whipple, and City Councilman Brandon Johnson, joined former Vice Mayor Lavonta Williams (now on the Dunbar restoration board), and Senator Faust-Goudeau, with Power CDC and Dunbar project dignitaries, and other community leaders --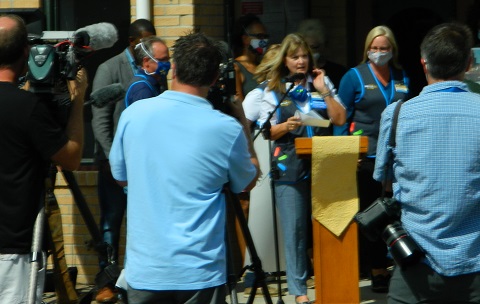 to welcome Walmart's delegation, and their generous gift -- a focus of the local broadcast news stations ( KSN, KWCH, and KAKE ) , following the previous day's Wichita Eagle newspaper.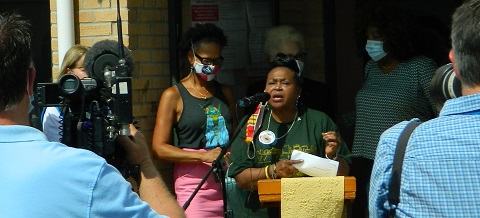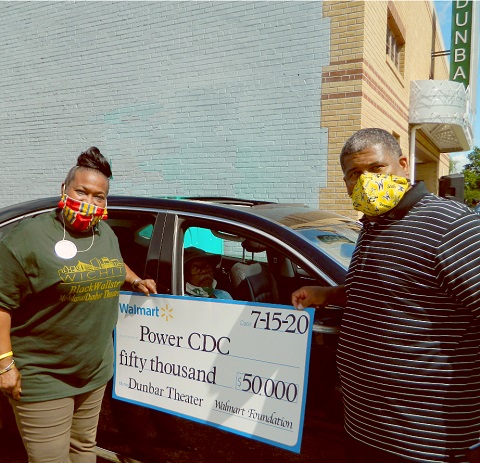 Senator Faust-Goudeau, with Rev. Holder -- who gave the benediciton at the event -- later presented the check to Power CDC's elder founding director, James Arbertha, Sr. Mr. Arbertha directed Power CDC's acquisition of the theater, saving it from demolition, and initiated the renovation effort, which he continues to oversee today -- with growing results, and hopes of a grand re-opening next year.

For more information, contact POWER CDC.
---
---
---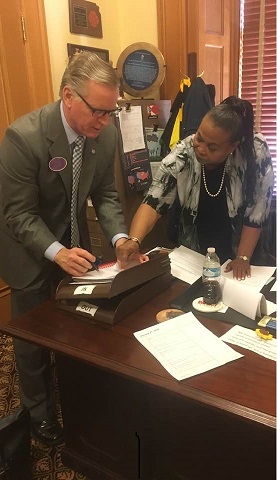 DRIVERS' LICENSE SUSPENSIONS:
Reducing Enforcement Excesses
February, 2020

Sen. Faust-Goudeau, in her office, negotiates SB 275 with Sen. Braun, to reduce excesses in drivers license suspensions.

I introduced Senate Bill 275 during the 2020 legislative session -- a bill regarding Suspended Drivers Licenses -- which allows a restrictive license for individuals whose licenses have been suspended for non-payment of fines. My proposal would allow them to drive back and forth to work, so they can provide for their families -- while making payments on traffic fines. It builds on a bill I pushed through in 2009, which began introducing a path to driver's license reinstatements.

A hearing was held on January 30th in the Senate Transportation Committee. The bill headed to the Senate floor for debate, where, in late February, it passed 39-0. Shortly thereafter, it passed in the House, overwhelmingly. It was scheduled to go to conference committee, to iron out some technicalities before being sent to the Governor for signing. However, the COVID-19 crisis forced a shutdown of the Legislature.

When the Legislature re-opens in January 2021, it will be a top priority for me to ensure the bill completes its journey to the Governor's desk, where Governor Kelly (who has been an enthusiastic supporter of this bill) awaits to sign it into law — relieving court congestion, stopping the hopeless cycle of revolving-door convictions and hardships,

and getting more Kansas workers back in their cars, and back to work.
For updates on the bill, in 2021 CLICK HERE.
---
---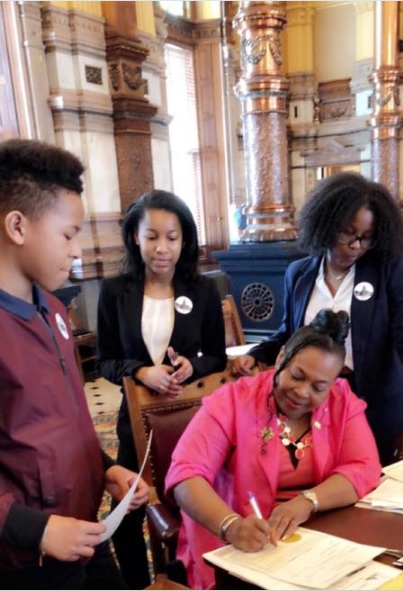 ---
HOSTING YOUNG CITIZENS
Senator Faust-Goudeau hosts students interested in government.
I believe it's important to host students at the Capitol so that they can see how the legislative process works up close.
---
---
---
---
2019:
---
VOTE-ANYWHERE LAW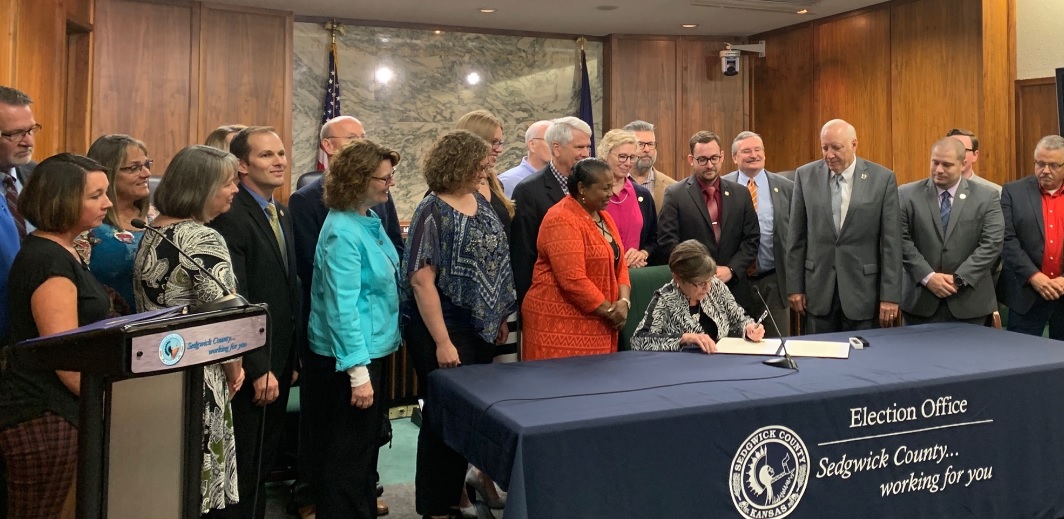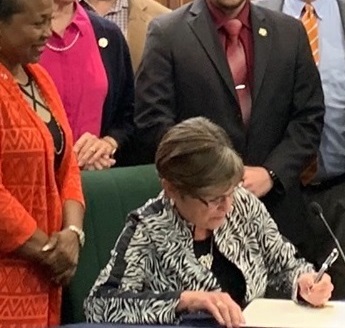 Sen. Oletha Faust-Goudeau introduced a bill to enable Kansas voters to vote at any Kansas polling location, regardless of their address.
Surrounded by Oletha's bipartisan supporters -- state legislators and Sedgwick County Commissioners -- Gov. Kelly signs her bill into law -- fundamentally simplifying voting for everyone in Kansas -- one of the most progressive expansions of voter rights in recent Kansas history.
---
GRANDPARENTS' RIGHTS LAW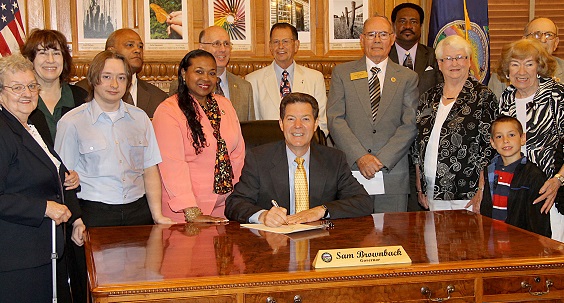 Sen. Oletha Faust-Goudeau introduced a bill to ensure grandparents the right to be included in many child-custody and visitation-rights cases, helping to preserve family integrity and stability, and the well-being of their grandchildren. Surrounded by Oletha's bipartisan supporters, Gov. Brownback signs Oletha's bill into law.
---
---
---
2018:
---
MURAL: BROWN vs. BOARD of EDUCATION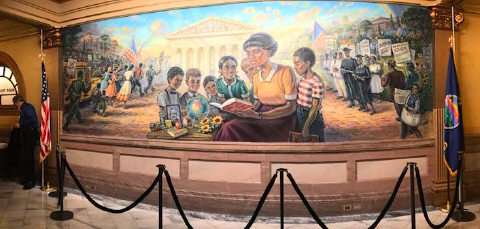 In May 17, 2018, Senator Faust-Goudeau joined fellow Democratic Senators Anthony Hensley (Topeka) and David Haley (Kansas City), on the thrid floor of the State Capitol, for the unveiling of the grand mural depicting one of the most historic events in Kansas history -- and American history:
the Brown vs. (Topeka) Board of Education case.

On that date in 1954, the U.S. Supreme Court ruled that Topeka schools could not be racially segregated -- declaring that the practice of "separate but equal" schools was inherently UNequal. That revolutionary, historic ruling effectively outlawed racial discrimination in education

-- all across America -- and set the stage for generations of legislative and judicial victories in the battle for equality in America.
The new statehouse mural was the product of years of competition and artwork resulting from legislation that Senator Faust-Goudeau, and her two Senate colleagues, introduced in 2009. It joins other famous murals, throughout the Capitol, illustrating pivotal trends, events and people in the history of Kansas.
---
BAN THE BOX: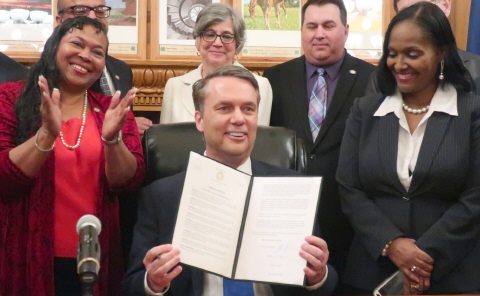 Governor Colyer -- accompanied by Senator Oletha Faust-Goudeau and Representative Gail Finney and other supporters -- signed a new "Ban the Box" policy, eliminating questions of former criminal convictions from state government job

applications (except for positions requiring a clean record, such as law enforcement) -- to help reintegrate former felons into the workforce, so they can earn an honest living... deterring a return to crime.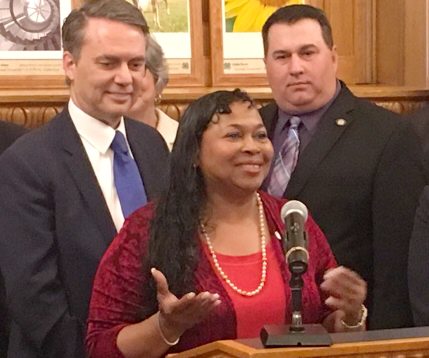 (State government employers can still inquire about convictions during interviews -- but applicants will then have a chance, in person, to explain their past.)
Gov. Colyer signed the ban into law May 2, 2018.
---
---
KANSAS NATIONAL GUARD SCHOLARSHIPS: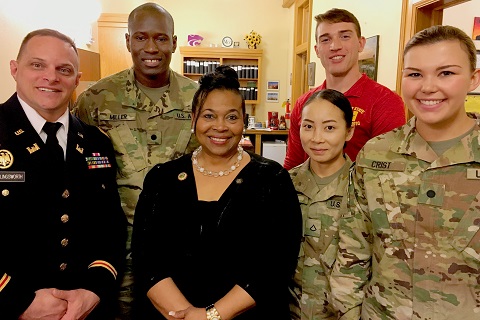 Senator Oletha Faust-Goudeau supported legislation to provide educational scholarships for new Kansas National Guard recruits.

---
WICHITA FLAG TAG: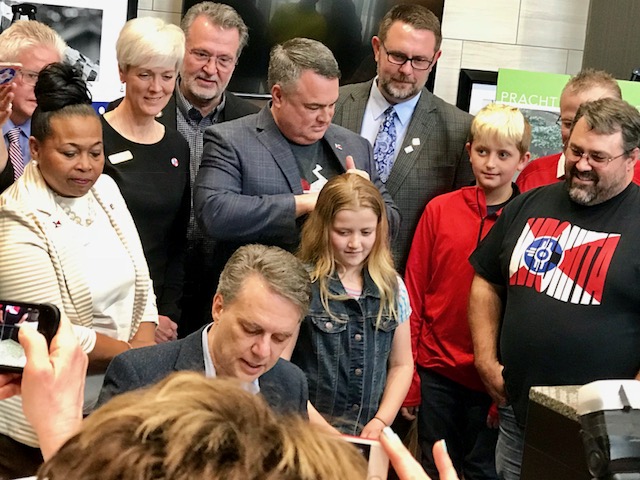 Surrounded by Wichita leaders, Governor Jeff Colyer -- in front of Senator Oletha Faust-Goudeau --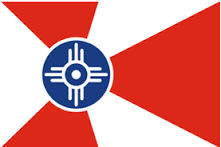 signs the bill, that she introduced, to allow people to order the Wichita Flag on their car's Kansas license plate, to show Wichita community pride.
---
---
---
<!- ============= Start of FEATURE LIST ============== -> <!- ============= End of FEATURE LIST ============== ->

... OLETHA FAUST-GOUDEAU
is YOUR best choice
for a better future in Sedgwick County!

Oletha Faust-Goudeau
YOUR Kansas State Senator
P.O.Box 20335
Wichita KS 67208

(316) 652-9067