---
For the Latest Newsletter
from Oletha CLICK HERE.
For Previous Newsletters
from Oletha CLICK HERE.
For Last Year's Summary
CLICK HERE.
---
MURAL: BROWN vs. BOARD of EDUCATION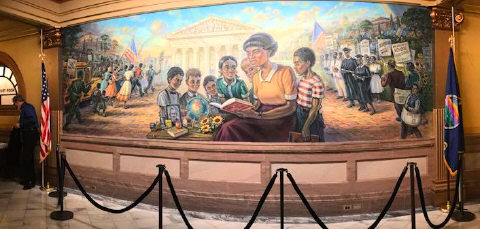 In May 17, 2018, Senator Faust-Goudeau joined fellow Democratic Senators Anthony Hensley (Topeka) and David Haley (Kansas City), on the thrid floor of the State Capitol, for the unveiling of the grand mural depicting one of the most historic events in Kansas history -- and American history:
the Brown vs. (Topeka) Board of Education case.

On that date in 1954, the U.S. Supreme Court ruled that Topeka schools could not be racially segregated -- declaring that the practice of "separate but equal" schools was inherently UNequal. That revolutionary, historic ruling effectively outlawed racial discrimination in education

-- all across America -- and set the stage for generations of legislative and judicial victories in the battle for equality in America.
The new statehouse mural was the product of years of competition and artwork resulting from legislation that Senator Faust-Goudeau, and her two Senate colleagues, introduced in 2009. It joins other famous murals, throughout the Capitol, illustrating pivotal trends, events and people in the history of Kansas.
---
BAN THE BOX: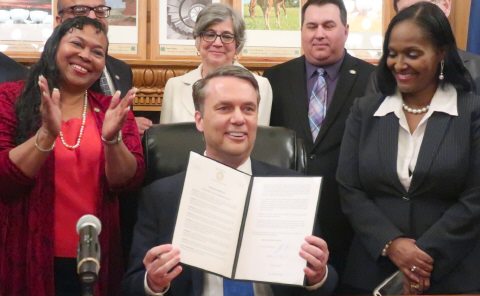 Governor Colyer -- accompanied by Senator Oletha Faust-Goudeau and Representative Gail Finney and other supporters -- signed a new "Ban the Box" policy, eliminating questions of former criminal convictions from state government job

applications (except for positions requiring a clean record, such as law enforcement) -- to help reintegrate former felons into the workforce, so they can earn an honest living... deterring a return to crime.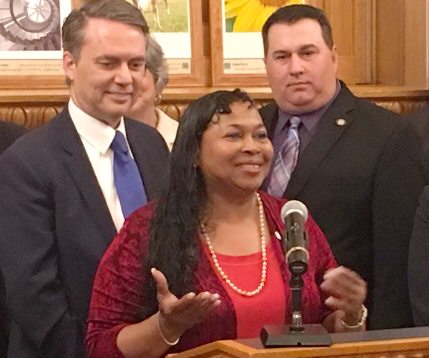 (State government employers can still inquire about convictions during interviews -- but applicants will then have a chance, in person, to explain their past.)
Gov. Colyer signed the ban into law May 2, 2018.

---
KANSAS NATIONAL GUARD SCHOLARSHIPS: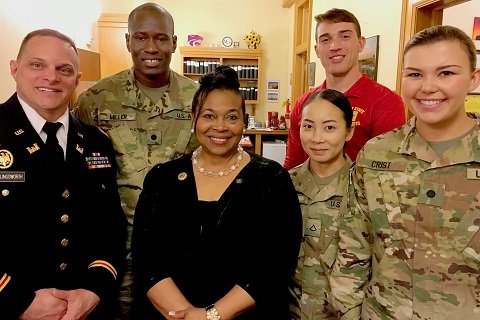 Senator Oletha Faust-Goudeau supported legislation to provide educational scholarships for new Kansas National Guard recruits.

---
WICHITA FLAG TAG: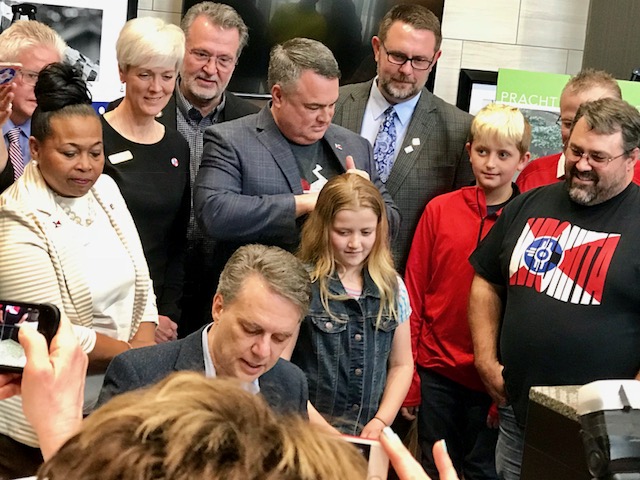 Surrounded by Wichita leaders, Governor Jeff Colyer -- in front of Senator Oletha Faust-Goudeau --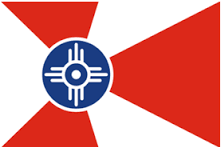 signs the bill, that she introduced, to allow people to order the Wichita Flag on their car's Kansas license plate, to show Wichita community pride.
---
---
---
<!- ============= Start of FEATURE LIST ============== -> <!- ============= End of FEATURE LIST ============== ->

... OLETHA FAUST-GOUDEAU
is YOUR best choice
for a better future in Sedgwick County!

Oletha Faust-Goudeau
YOUR Kansas State Senator
P.O.Box 20335
Wichita KS 67208

(316) 652-9067